Historical Essay
Wilderness, Battle of the
Civil War Battle Summary
Enlarge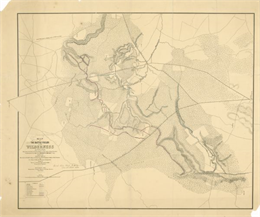 Map of the Battle of Wilderness, 1864
Wilderness, Virginia. This map of the battlefield at Wilderness, Virginia, illustrates the Union positions in blue and Confederate positions in red. Roads, railroads, vegetation, drainage, and the names of area residents are all shown. The 2nd Wisconsin Infantry, 5th Wisconsin Infantry, 6th Wisconsin Infantry, 7th Wisconsin Infantry, and 36th Wisconsin Infantry all took part in the Battle of the Wilderness on May 5-7, 1864. View the original source document: WHI 90843
Date(s): May 5-June 12, 1864
Location: Wilderness, Virginia (Google Map)
Other name(s): the most important engagements occurred at Parker's Store, Laurel Hill, Todd's Tavern, Germanna Ford, Spotsylvania , North Anna, Jericho Ford, Hanover Court House, Bethesda Church, Pamunky, and Cold Harbor
Campaign: Grant's Operations Against Vicksburg (March-July 1863)
Outcome: Inconclusive
Summary
A series of bitterly contested engagements at locations between Washington, D.C., and Richmond, Virginia, produced more than 80,000 casualties, no clear victor, and led Union leaders to lay siege to Petersburg, Virginia.
Early in May 1864 more than 100,000 Union troops entered Virginia and advanced toward the Confederate capital at Richmond. Approximately 64,000 Confederate troops tried to block their way. Over eight weeks the two sides clashed multiple times across a rural district known as the Wilderness.
The initial battle of the Wilderness, which lasted from May 5-7, produced nearly 30,000 casualties without granting either side a clear victory. The next day, the two-week-long Battle of Spotsylvania began. In this battle approximately the same number of men were killed or wounded and conclusive victory again eluded either side. Then, with hardly a break in the fighting, two sides clashed again in another victor-less battle at the North Anna River from May 23–26.
Finally, from May 31-June 12 (the most significant fighting occurring on June 3) more than 160,000 men clashed at Cold Harbor. It resulted in a Confederate victory and 17,500 casualties. Union forces then dashed toward Petersburg, but Confederate troops managed to interpose themselves and dig in for the Siege of Petersburg.
Wisconsin's Role
The 2nd, 5th, 6th, 7th, and 36th Wisconsin Infantry regiments and Company G of the 1st U.S. Sharpshooters (Berdan's Sharpshooters) took part in most of the battles.
In the opening engagement on May 5-7, the 2nd and 7th Wisconsin Infantry regiments were in the thick of the fighting and the 5th Wisconsin Infantry lost 142 of its men. On May 12, a company of the 5th Wisconsin Infantry stormed and seized a Confederate artillery battery at Spotsylvania, turned cannons sideways, and devastated the adversaries. On May 31, the newly raised 36th Wisconsin Infantry went into battle, just three weeks after leaving Madison. The next day, 240 of its soldiers charged an enemy entrenchment and 140 were either killed or wounded. The 36th lost a total of 400 men, including its commander, Colonel Frank A. Haskell.
Learn More
Read More About the Battle of the Wilderness
Read More About Wisconsin's Participation in the Civil War
View Original Documents from the Battle of Cold Harbor, May 31-June 12, 1864
[Source: Report on the Nation's Civil War Battlefields (Washington, 1993); Estabrook, C. Records and Sketches of Military Organizations (Madison, 1914); Love, W. Wisconsin in the War of the Rebellion (Madison, 1866).]