Historical Essay
Appomattox Court House, Battle of
Civil War Battle Summary
Enlarge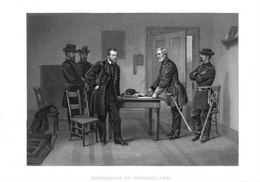 The Surrender of General Lee, 1865.
An engraving from a painting of Robert E. Lee signing the document that would end the war between the states in the presence of Ulysses S. Grant and their aides at Appomattox. View the original source document: WHI 9581
Enlarge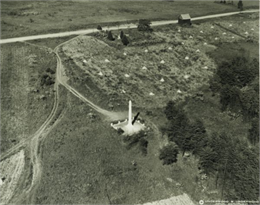 Appomattox, 1925 ca.
Aerial view of the site of the Confederate surrender in 1865. View the original source document: WHI 70747
Date(s): April 9, 1865
Location: Appomattox, Virginia (Google Map)
Other name(s): none
Campaign: Appomattox Campaign (March-April 1865)
Outcome: Union victory
Summary
On April 9, 1865, at the Battle of Appomattox Court House, Virginia, General Robert E. Lee was forced to surrender to Union commander Ulysses S. Grant. It was the final engagement in Virginia and ended four years of fighting around Washington, D.C.
Prior to the battle, Union forces had besieged Petersburg, the gateway to the Confederate capital at Richmond, Virginia. Both cities fell to Union troops on April 2-3, 1865.
Confederate General Robert E. Lee retreated westward in the vain hope of reaching supplies at Lynchburg, Virginia. Union troops followed close on his heels and caught up with his forces at Appomattox Court House on April 9, 1865. Outnumbered and surrounded, Lee was forced to surrender.
Wisconsin's Role
The 5th, 6th, 7th and 36th Wisconsin Infantry regiments were among the units pursuing General Lee across Virginia. The 36th Wisconsin Infantry was present when he surrendered.
Links to Learn More
Pages 305-307 in E.B. Quiner's "The Military History of Wisconsin" (Madison, 1866).
[Source: Report on the Nation's Civil War Battlefields (Washington, 1993); Estabrook, C. Records and Sketches of Military Organizations (Madison, 1914); Love, W. Wisconsin in the War of the Rebellion (Madison, 1866).