Historical Essay
Chancellorsville, Battle of
Civil War Battle Summary
Enlarge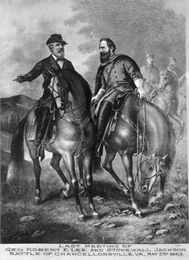 Battle of Chancellorsville, 1863.
Copy of a painting entitled, "Last Meeting of General Robert E. Lee and Stonewall Jackson." The scene depicts the meeting at the Battle of Chancellorsville, VA on May 2, 1863. The two men ride on horseback on the site of the battle. View the original source document: WHI 76486
Date(s): April 30-May 6, 1863
Location: Chancellorsville, Virginia (Google Map)
Other name(s): none
Campaign: Chancellorsville Campaign (April-May 1863)
Outcome: Confederate victory
Summary
The Confederate victory at Chancellorsville opened the door for invading the North a month later.
The Battle of Chancellorsville, Virginia, spanned the first week of May 1863. It involved more than 160,000 soldiers, 30,000 of whom were killed or wounded. It occurred about halfway between Washington, D.C., and Richmond, Virginia. Although Union forces outnumbered Confederates almost 2-to-1, their leadership was bumbling and timid. Confederate generals, in contrast, showed both daring and creativity and drove Union forces from the field by the end of the week.
It was a costly victory for the Confederates. They lost more than 22 percent of their soldiers. Among the casualties was one of their most brilliant generals, Stonewall Jackson, who died after being accidentally shot in the dark by his own troops.
Wisconsin's Role
Wisconsin's 2nd, 3rd, 5th, 6th, 7th and 26th Wisconsin Infantry regiments and Berdan's Sharpshooters were engaged in some of the fiercest fighting. The 26th Wisconsin Infantry, composed almost entirely of German immigrants, had 149 men either killed or wounded.
Links to Learn More
[Source: Report on the Nation's Civil War Battlefields (Washington, 1993); Estabrook, C. Records and Sketches of Military Organizations (Madison, 1914); Love, W. Wisconsin in the War of the Rebellion (Madison, 1866).