Historical Essay
Atlanta, Battle of
Civil War Battle Summary
Enlarge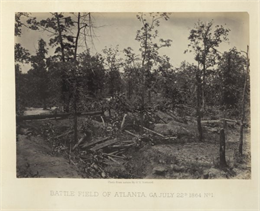 Battlefield at Atlanta, 1864.
An empty battlefield at Atlanta, Georgia, with debris among trees. View the original source document: WHI 78976
Enlarge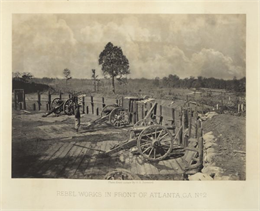 Rebel Works in Front of Atlanta, 1864.
One of the Confederate defenses around the city, with several cannons behind earthworks. A Union soldier stands near one of the cannons. View the original source document: WHI 78972
Date(s): July 22, 1864
Location: Atlanta, Georgia (Google Map)
Other name(s): none
Campaign: Atlanta Campaign (May-September 1864)
Outcome: Union victory
Summary
The Battle of Atlanta was part of the Atlanta Campaign which began in May 1864 and lasted until Union forces took possession of the city on September 2, 1864.
Union forces began their march toward Atlanta on May 7, and by July had advanced to the city's outskirts. On July 22, they met 37,000 Confederate troops in a battle that some historians consider one of the most desperate and bloody of the war. It ended in a Union victory. At the end of the day more than 20 percent of the Confederate forces were killed, wounded, or missing.
Wisconsin's Role
The 1st, 12th, 16th, 17th, 22nd, 25th, 26th, and 31st Wisconsin Infantry regiments and 5th Wisconsin Light Artillery battery were involved on July 22, 1864.
Links to Learn More
[Source: Report on the Nation's Civil War Battlefields (Washington, 1993); Estabrook, C. Records and Sketches of Military Organizations (Madison, 1914); Love, W. Wisconsin in the War of the Rebellion (Madison, 1866).]