Historical Essay
Falling Waters, Battle of
Civil War Battle Summary
Enlarge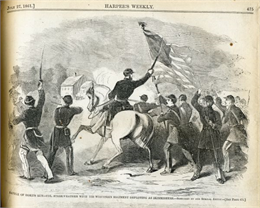 The Battle of Hoke's Runn, 1861.
The Battle of Hoke's Run was also known as the Battle of Falling Waters. The colonel is John C. Starkweather who eventually was promoted to the rank of major-general. The Wisconsin Regiment depicted in this illustration is that of the First Wisconsin Volunteer Regiment, and the person carrying the flag is Color Sgt. Frederick Hutching of Co. E before he was shot in the legs. View the original source document: WHI 78080
Date(s): July 2, 1861
Location: Martinsburg, West Virginia (Google Map)
Other name(s): Hoke's Run, Hainesville
Campaign: Manassas Campaign (July 1861)
Outcome: Union victory
Summary
The Battle of Falling Waters was the first time Wisconsin soldiers engaged with Confederat troops.
After the Civil War broke out in April 1861, both sides hurriedly recruited troops to defend their respective capitals. At that time, Union soldiers enlisted for only 90 days, since government leaders expected to suppress the South quickly and easily.
On July 2, 1861, Union troops left Washington and followed the Potomac Valley upriver into Virginia, searching for the Confederates in the Shenandoah Valley. En route they encountered a brigade led by General T.J. "Stonewall" Jackson near Martinsburg, West Virginia, and gradually pushed it back.
Wisconsin's Role
The 1st Wisconsin Infantry had left Milwaukee for Washington only a few days before the battle. When it reached Hagerstown, Maryland, it was ordered to join the expedition up the Potomac Valley. The 1st Wisconsin Infantry was at the frontline when the two sides met. Philo Jones of Company K fired the first shot. The first Wisconsin soldier killed in the war was George Drake. Company A, of Milwaukee. The first Wisconsin soldier wounded was Color Bearer Fred Huchting, Company E, from Madison. The first Wisconsin soldier taken prisoner was Sol Wise of Company K.
The regiment returned to Milwaukee a few weeks later when its 90 days were up. Most of its members immediately re-enlisted for three years.
Links to Learn More
In E.B. Quiner's "Military History of Wisconsin" (Madison, 1866)
[Source: Report on the Nation's Civil War Battlefields (Washington, 1993); Estabrook, C. Records and Sketches of Military Organizations (Madison, 1914); Love, W. Wisconsin in the War of the Rebellion (Madison, 1866).