Historical Essay
Brentwood, Battle of
Civil War Battle Summary
Enlarge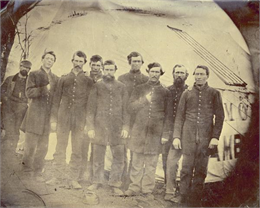 Brentwood, 1863.
The men in this tintype image were among 500 soldiers taken prisoner at Brentwood on March 25, 1863 and sent to Richmond. They were exchanged for Confederate prisoners and released, and were back in Nashville by June 15, 1863. Private Porter Wait, Company C, of the 22nd Wisconsin Infantry, is the second from the right (with beard). View the original source document: WHI 11005
Enlarge
Lt. Colonel Edward Bloodgood
Seated studio carte-de-visite of Lt. Colonel Edward Bloodgood of the 22nd Regiment Wisconsin Volunteers. View the original source document: WHI 3313
Date(s): March 25, 1863
Location: Brentwood, Tennessee (Google Map)
Other name(s): Thompson's Station
Campaign: Middle Tennessee Operations (February-April 1863)
Outcome: Confederate victory
Summary
This minor battle gave Confederate forces temporary control of an important railroad depot outside Nashville, Tennessee, in the spring of 1863.
At the time this battle was fought, Union troops had occupied Nashville, Tennessee, for more than a year. Brentwood, a depot on the Nashville & Decatur Railroad nine miles south of the city, was held by a force of about 800 soldiers that included the 22nd Wisconsin Infantry.
On March 24, 1863, Confederate troops secretly cut telegraph lines, tore up railroad tracks, and cut off any retreat from Brentwood. They attacked the town at about 7 am the next morning. The town contained 12,000 Wisconsin infantry and artillery. Unable to call for reinforcements, the outnumbered Union troops surrendered after putting up a vain resistance.
Wisconsin's Role
Lieutenant Colonel Edward Bloodgood commanded the 22nd Wisconsin Infantry, which put up a brief resistance. Seven of its soldiers died and 13 were wounded. The majority of the regiment was taken prisoner and then soon released.
Links to Learn More
Page 700 in E.B. Quiner's "Military History of Wisconsin" (Madison, 1866).
[Source: Report on the Nation's Civil War Battlefields (Washington, 1993); Estabrook, C. Records and Sketches of Military Organizations (Madison, 1914); Love, W. Wisconsin in the War of the Rebellion (Madison, 1866).]