Historical Essay
Champion Hill, Battle of
Civil War Battle Summary
Enlarge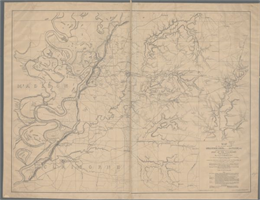 Map of the Country Between Millikens Bend, Lousiana., and Jackson, Mississippi, 1863
This map depicts the opening battles in the Union campaign against Vicksburg, Mississippi, in May 1863. Noted are the Battle of Port Gibson, May 1, 1863, the Battle of Raymond, May 12, 1863, the Battle of Jackson, May 14, 1863, the Battle of Champion Hill, May 16, 1863, and the Battle of Big Black River Bridge, May 17, 1863. View the original source document: WHI 90836
Date(s): May 16, 1863
Location: Midway between Jackson and Vicksburg, Mississippi (Google Map)
Other name(s): Bakers Creek
Campaign: Grant's Operations against Vicksburg (March-July 1863)
Outcome: Union victory
Summary
The Battle of Champion Hill paved the way for the siege of Vicksburg, Mississippi, in the summer of 1863.
Confederate artillery positioned on the bluffs at Vicksburg had control of all shipping on the Mississippi River. Therefore, Union forces landed south of the city and circled behind it for an attack from the east. On May 16, 1863, roughly 33,000 Union troops surprised 23,000 Confederates east of Vicksburg at Champion Hill, midway between Vicksburg and Jackson, Mississippi.
There were several attacks and counterattacks throughout the day, but Confederate troops were gradually pushed back from their positions. At the end of the battle they were forced to retreat into Vicksburg after more than 4,000 soldiers were killed, wounded or missing (Union forces lost about 2,500). The Union victory opened the route for an advance on Vicksburg.
Wisconsin's Role
The 23rd and 29th Wisconsin Infantry regiments were in the thick of the fighting all day. Three companies of the 23rd Wisconsin Infantry were among the first troops to engage the enemy. The entire regiment was instrumental in cutting off a large segment of the Confederate force. The 29th was at the center of the Union line and successfully charged uphill to capture a Confederate artillery battery. More than 100 men in that regiment were killed or wounded.
Links to Learn More
[Source: Report on the Nation's Civil War Battlefields (Washington, 1993); Estabrook, C. Records and Sketches of Military Organizations (Madison, 1914); Love, W. Wisconsin in the War of the Rebellion (Madison, 1866).]