Historical Essay
Island No. 10, Battle of
Civil War Battle Summary
Enlarge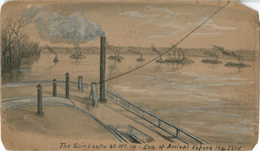 The Gunboats at No. 10, 1862
An image from a sketchbook of "The Gunboats at No. 10 — Eve of Arrival before the [Island]". The drawing appears to be from the deck of a ship showing several boats on the Mississippi River. View the original source document: WHI 32962
Enlarge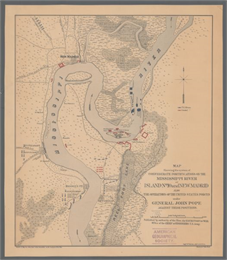 Confederate Fortifications on the Mississippi River at Island No. 10, 1862
This map of the Mississippi River between Island No. 8, northeast of New Madrid, Missouri, and Tiptonville, Tennessee, depicts the Confederate defenses at Island No. 10, New Madrid, and Tiptonville. Also depicted is the Union fleet approaching Island No. 10 and the positions of union troops in the area. View the original source document: WHI 90747
Date(s): February 28-April 8, 1862
Location: opposite New Madrid, Missouri (Google Map)
Other name(s): often coupled with the Battle of New Madrid
Campaign: Joint Operations against New Madrid, Island No. 10, and Memphis (February-June 1862)
Outcome: Union victory
Summary
This marked the first time the Confederate Army lost a position on the Mississippi River in battle.
The struggle for navigation control of the Mississippi River began as soon the Civil War started in April 1861. In February 1862, Union leaders aimed to take control of the Mississippi River at Island No. 10, which sat between New Madrid, Missouri, and Tiptonville, Tennessee. Once they had control, the Union could then move rapidly into the South and divide the Confederacy in two.
On February 28 the two sides clashed. Soon Union forces laid siege to Confederate-controlled New Madrid. By March 13 the city fell and Confederate troops evacuated to Island No. 10 and Tiptonville.
The battle continued as Confederate troops were bombarded by Union vessels. Two U.S. Navy ironclad gunboats aided a Union Army river crossing to trap Confederates trying to flee Tiptonville. The Confederates in Tiptonville and the remaining garrison on the island realized their cause was hopeless. The Confederate forces surrendered on April 8, 1862.
Wisconsin's Role
The 8th and 15th Wisconsin Infantry regiments and 5th, 6th and 7th Wisconsin Light Artillery Batteries were heavily involved in this effort.
Early in the siege, the three Wisconsin light artillery batteries were positioned on the river bank just 800 yards from the fortress at New Madrid. They bombarded it steadily until the enemy withdrew. The 8th Wisconsin Infantry helped capture 6,000 Confederate prisoners on April 8. The 15th Wisconsin Infantry, composed almost entirely of Norwegian immigrants, was put in command of the island after the battle.
Links to Learn More
[Source: Report on the Nation's Civil War Battlefields (Washington, 1993); Estabrook, C. Records and Sketches of Military Organizations (Madison, 1914); Love, W. Wisconsin in the War of the Rebellion (Madison, 1866)]