Historical Essay
Shiloh, Battle of
Civil War Battle Summary
Enlarge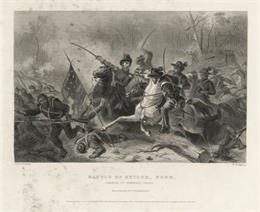 The Battle of Shiloh, 1862 ca.
This etching depicts the Battle of Shiloh, Tennesse on April 6-7, 1862. View the original source document: WHI 69987
Enlarge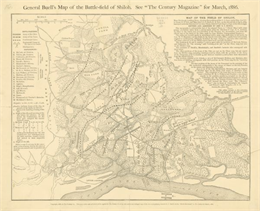 General Buell's Map of the Battlefield of Shiloh, 1886
Shiloh, Tennesse. This detailed map shows the positions of the armies of the Ohio and Tennessee, Confederate lines, headquarters, and "regimental camps at the date of the battle." The 14th Wisconsin Infantry, 16th Wisconsin Infantry, and 18th Wisconsin Infantry regiments fought at Shiloh. View the original source document: WHI 90863
Date(s): April 6–7, 1862
Location: Pittsburg Landing, Tennessee (Google Map)
Other name(s): Pittsburg Landing
Campaign: Federal Penetration up the Cumberland and Tennessee Rivers (February-June 1862)
Outcome: Union victory
Summary
The Battle of Shiloh was one of the bloodiest in U.S. history. Out of 62,000 soldiers engaged, nearly 20,000 were killed or wounded.
During spring 1862, Union forces had moved far up the Tennessee River in an attempt to invade the South. On April 6, as they camped on the west bank at Pittsburg Landing, Tennessee, Confederate forces launched a surprise attack. Fierce fighting continued throughout the day. By nightfall, Confederates held the advantage. Union reinforcements arrived overnight, and on the second day, they drove the Confederates from the field. Both sides claimed victory, but the Confederates retreated all the way to Corinth, Mississippi, 22 miles south. Gen. Ulysses S. Grant wrote afterward that the main part of the battlefield was "so covered with dead that it would have been possible to walk across the clearing, in any direction, stepping on dead bodies, without a foot touching the ground."
Wisconsin's Role
The 14th, 16th, and 18th Wisconsin Infantry regiments fought at the Battle of Shiloh.
The 16th Wisconsin Infantry was the first to discover the sneak attack. Lieutenant Colonel Cassius Fairchild was wounded at the outset. Colonel Benjamin Allen of Pepin, Wisconsin, had two horses shot from under him. Over the course of the battle, 265 soldiers from the 16th were killed.
The 18th Wisconsin Infantry had been out of camp only a week when the battle began. It lost 24 men, including Colonel James Alban who was fatally wounded by a bullet through the lungs. The 14th Wisconsin Infantry arrived the next morning with the reinforcements and took part in the second day's fighting. One lieutenant, who came through the battle unscathed, counted 12 bullet holes through his uniform.
Links to Learn More
[Source: Report on the Nation's Civil War Battlefields (Washington, 1993); Estabrook, C. Records, and Sketches of Military Organizations (Madison, 1914); Love, W. Wisconsin in the War of the Rebellion (Madison, 1866)]