Historical Essay
First Lady's Irene Evening Gown
Wisconsin Historical Museum Object – Feature Story
Enlarge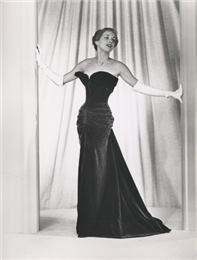 Velvet dress worn by a model, 1952
Irene's sample version of the garnet velvet dress as worn by one of her models, 1952. Source: Image courtesy of Tom Gates
Enlarge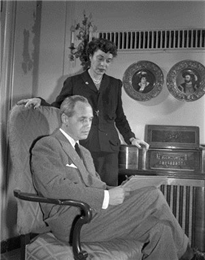 Governor Walter Kohler, Jr. and First Lady Charlotte McAleer Kohler, 1952
Governor and Mrs. Walter J. Kohler, Jr. at the Executive Residence just after he won re-election to a second term as governor, November 4, 1952. View the original source document: WHI 33108
Garnet velvet evening gown worn by Wisconsin First Lady Charlotte McAleer Kohler to President Eisenhower's 1953 Inauguration Ball.
(Museum object #1960.211.2)
The sparkling glamour of Hollywood in its heyday inspired designers to clothe their movie star clients in innovative and luxurious designs. At the same time, other wealthy and important women enjoyed experiencing designer clothes as well. Many of these women wore the fashions of "Irene," a costume designer for Metro Goldwyn Meyer (MGM) the decade before, who turned to creating haute couture garments for well-to-do customers in the 1950s. Her gowns garnered attention with their classic lines and magnificent fabrics. Wisconsin first lady Charlotte Kohler wore one of Irene's creations, to President Dwight D. Eisenhower's Inaugural Ball in Washington, D.C. on January 20, 1953. Kohler's gown was made of sumptuous garnet velvet and was strapless, with petal-shaped bodice, a draped hipline, and a short train.
Charlotte McAleer Kohler was born on October 12, 1912 in Philadelphia, Pennsylvania, to Dr. John Wiley and Nellie McAleer. Charlotte's parents divorced before she was born, so Charlotte retained her mother's maiden name. Raised by her maternal grandparents in Philadelphia, she studied acting in New York City as a young woman. There Charlotte performed in both summer stock theatre off-Broadway, and on Broadway in "Death Takes a Holiday." She was briefly married to Arthur Link before she met future Wisconsin governor Walter Jodok Kohler, Jr. in 1947. They married a year later.
As a governor's wife Charlotte Kohler attended several important public functions, including Eisenhower's Inaugural Ball in 1953. The ball was a "white tie and bare-shouldered event," and most women at the ball would have been dressed by well-known designers. Many of the gowns had full skirts including the much admired pink gown of the new first lady, Mamie Eisenhower. Yet even amongst these gowns, Mrs. Kohler's Irene dress would have stood out, not only for the beauty of the fabric and the modern details of the dress, but also for its svelte silhouette.
Women's fashion designer Irene (Lentz) Gibbons of Los Angeles, California, known professionally simply as Irene, created the garnet gown that Mrs. Kohler wore to the Inauguration Ball in 1953. Irene worked as a fashion model at the beginning of her career, later becoming a free-lance movie costume designer prior to her career as designer of haute couture and ready-to-wear women's clothing.
Irene opened her first clothing shop near the University of Southern California campus in the mid-1920s. As her reputation grew, she moved her store to Sunset Boulevard, and began dressing movie icons such as Marlene Dietrich, Joan Crawford and Rosalind Russell. Irene became known for her "tailored yet feminine" styles embellished with "interesting asymmetrical trim." In 1942, Irene replaced Hollywood legend Adrian to become executive designer for MGM. She retired from MGM seven years later to work on her lines of couture and ready-to-wear clothing.
Irene's characteristic style is evident in Mrs. Kohler's velvet gown. An article from the September 9, 1952 edition of the "Los Angeles Examiner" reviewed this particular dress, saying the "[p]etal bodice and exquisitely draped hipline add beauty to the garnet red Lyons velvet gown designed by Irene." The boned bodice is lined in nude silk organza and the draped skirt is very full in back. In Irene's 1952 fall collection list, this evening gown is identified by a short description "Garnet Lyons Velvet, 9 pm" and style number 2564. This gown, designed to be worn in the late evening, retailed for $425. the equivalent of $3,300 in 2006.
Mrs. Kohler purchased this dress from the shop of Nan Duskin in Philadelphia, one of only four upscale women's boutiques privileged to carry the Irene brand. Mrs. Kohler evidently enjoyed Irene's designs, as she had purchased another of her gowns (also now in the Wisconsin Historical Society's collection) to wear to a national governor's conference held in Houston, Texas in 1952.
Learn More
Have Questions?
For more information or to purchase an image of one of the objects featured in Curators' Favorites, contact our staff by email below:
museumcollections@wisconsinhistory.org
[Sources: Williams, Nancy Greenwood. "The First Ladies of Wisconsin "(Kalamazoo, MI: Ana Publishing, 1991); "The Capital Times", January 21, 1953; Irene biography on the "New York Times"; Mendoza, Deirdre and Berkshire, Geoffrey, "Contract Players," Variety, March 19, 2002; "Purchasing Power of Money in the United States from 1774-2006" converter.]
MLM
Posted on December 27, 2007