Historical Essay
1850s Personal Appointment Calendar
Wisconsin Historical Museum Object – Feature Story
Enlarge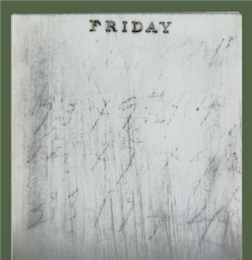 Fairchild's appointment book Friday, 1850s
Fairchild's appointment book still bears lead markings on each page, evidence of his busy schedule. Although most of the markings are now illegible, this leaf shows some numeric figures along with scratch marks from years of erasing notations. Source: Wisconsin Historical Museum object #1971.19
Enlarge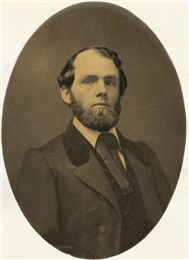 Cassius Fairchild, 1859
Cassius Fairchild, 1859. During this time, Fairchild served as chairman of the Democratic Party of Wisconsin and managed several branches of his family's business. View the original source document: WHI 38585
Weekly appointment book made of ivory and used by Wisconsin politician and businessman Cassius Fairchild of Madison, Wisconsin during the 1850s. Maker unknown.
(Museum object #1971.19)
Today, most people consider daily life to be busier than in generations past, with seemingly endless appointments and meetings filling up their schedules. To organize busy days, people utilize the convenience of pocket calendars and, more recently, handheld electronic devices such as personal digital assistants (PDAs). But the concept of a portable weekly planner is nothing new. Starting in the 1850s, Madison politician and businessman Cassius Fairchild kept track of his busy schedule with this re-useable, handheld weekly planner not so different from modern PDAs.
Manufactured from ivory, Fairchild's appointment book is quite small, measuring only 3 1/2 inches long by 1 3/4 inches wide. The compact size allowed for easy storage in a coat pocket. The book is comprised of six ivory leaves, one labeled for each day of the week except for Sunday. The two outer covers, made from thicker pieces of ivory, are joined by a small pin on which all of the leaves swivel, allowing Fairchild to access any day of the week easily by simply fanning them open. At the opposite end, a metal clasp locked the book when not in use. A metal shield, with the name "Cassius" engraved on it, adorns the front cover of the appointment book.
In the mid-1800s, ivory appointment books were fairly common possessions of business and civic leaders who needed to organize their schedules on the go. Some books came with more elaborate bindings, larger or smaller leaves, or metal covers with inscriptions and decorations. Others contained ivory leaves without the days of the week inscribed, making these more of a notebook. Regardless of form, the books' ivory leaves provided the user a durable surface on which notes could be repeatedly written in easily erased pencil. Given that Fairchild was just embarking on a business career in the 1850s, it is possible that he received his appointment book as a gift.
During this time, Fairchild's political career blossomed as well. He was a delegate to the Democratic congressional conventions of 1854 and 1856, an Madison alderman in 1858, and chairman of the Democratic Party in Wisconsin a year later. In 1860 he served as state assemblyman while he also managed the Fairchild family business interests in cranberry production, sawmill operations, and property rentals. Fairchild likely relied heavily on his appointment book during these busy times. When the Civil War began, he served in the Wisconsin Voluntary Infantry, suffering a serious wound at the Battle of Shiloh.
In addition to this appointment book, the Wisconsin Historical Society possesses numerous artifacts, heirlooms, and portraits related to the Fairchilds, a prominent Wisconsin pioneer family. Cassius's father, Jairus Fairchild, was the first mayor of Madison. A brother, Lucius Fairchild, was a nationally famous Civil War hero and later governor of Wisconsin.
Learn More
Have Questions?
For more information or to purchase an image of one of the objects featured in Curators' Favorites, contact our staff by email below:
museumcollections@wisconsinhistory.org
[Sources: Wisconsin Historical Society website biography on Cassius Fairchild (biography cites: L. Fairchild Papers; C. R. Tuttle, Illus. Hist. of Wis. (Boston, 1875); Wis. Mag. Hist., 10; Milwaukee Sentinel, Oct. 26, 1868; WPA field notes, Dictionary of Wisconsin biography); Second Wisconsin Volunteer Infantry website.]
ACG
Posted on August 23, 2007