Historical Essay
Wisconsin's First Election
Creating the Wisconsin Territory
Enlarge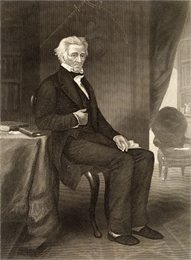 Andrew Jackson
Portrait of Andrew Jackson from a daguerreotype. View the original source document: WHI 23901
During the last week of October in 1836, Wisconsin's first elected officials took office.
The First Elections
By today's standards the state's first elections were informal. Voters and candidates generally knew one another personally. No party machines organized to get out the vote, no advertisements flooded the non-existent media and no bumper stickers adorned the backs of ox-carts and horse-drawn wagons.
Whigs and Jacksonians
The major ideological divisions in the electorate were geographic: immigrants from New England and New York on the lakeshore who were predominantly Whigs arrayed themselves opposite immigrants from the South in the mining district, who were usually Jacksonian Democrats. Although French-speaking residents had lived in Wisconsin since the mid-1600s, no one with a French surname was elected to the first legislature. Similarly, no American Indians participated. After 200 years political power had unmistakably shifted from tribal elders and French-Canadian Catholics to English-speaking Protestants. The early legislators are described in this 1877 article by Moses M. Strong.
When Michigan had become a state earlier in 1836 the region west of Lake Michigan became eligible to be a territory in its own right. This proposed "Wisconsin Territory" stretched west from Green Bay across the Mississippi to include all of modern Iowa, Minnesota and half of the Dakotas. Congress enacted a law defining Wisconsin Territory on April 20, 1836, and President Andrew Jackson appointed Henry Dodge as its first governor. Dodge was sworn in as governor in Mineral Point on July 4th, with responsibility to conduct a census, hold elections and convene a legislature.
First Counties
Enlarge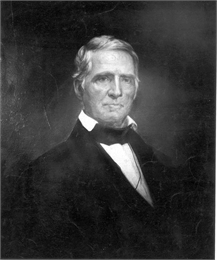 President Andrew Jackson
Portrait of Andrew Jackson from a daguerreotype. View the original source document: WHI 2613
Dodge divided the area that is today Wisconsin into six counties in order to take the first census. Chippewa and Machillimackinac counties contained everything north of Rhinelander and Rice Lake. Crawford County occupied most of western Wisconsin from the Twin Cities to Prairie du Chien and east to today's Highway 51. Iowa County, the most populous, embraced only the lands south of the Wisconsin River and west of Highway 51 where thousands of lead miners had settled. Milwaukee County was the entire southeast portion of the state from Portage to Kenosha, and Brown County filled the northeast quarter of the state from Portage to Marinette.
That first census taken in August 1836 was performed in order to identify voters. It found only 11,683 non-Indian residents within the bounds of today's Wisconsin: Brown County - 2,706, Crawford County - 850, Iowa County - 5,234, Milwaukee County - 2,893.
Growing State
When it was born, Wisconsin contained only about as many people as Cedarburg, Fort Atkinson, Hudson, or Plover do today. The entire census listing all the male heads of households is available here. A population density map showing where these families were concentrated is available here.
Having listed all the white males over 21 in the four populated counties, Dodge authorized local officials to hold elections early in the fall. Residents chose delegates to represent them at a territorial convention scheduled at the mining district in Belmont later in the fall. Only 20 people were to represent the entire population: seven in the Territorial Council, equivalent to today's Senate, and 13 in the Assembly.
Governor Dodge convened the first legislature at Belmont, a hastily assembled collection of rude buildings in what is now Lafayette County, where it met for 46 days. The surviving structures are now a historic site commemorating the beginnings of democracy in Wisconsin. Read more about the most important documents related to the Creation of Wisconsin Territory.
Learn More
See more images, essays, newspapers and records about Wisconsin elections.