Historical Essay
Brett Favre's Packers Jersey
Wisconsin Historical Museum Object – Feature Story
Enlarge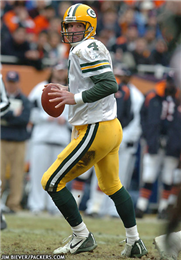 Brett Favre, 2005
Brett Favre prepares to pass during against the Chicago Bears during the January 2, 2005 meeting at Soldier Field wearing the jersey that the Packers later donated to the Wisconsin Historical Museum. Source: Image courtesy of Jim Biever
Enlarge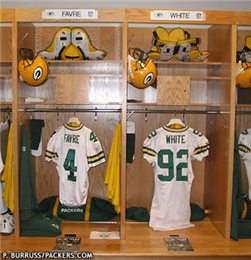 Brett Favre and Reggie White's jersey shirts, 2005
Favre's jersey hangs in a locker adjacent to a locker prepared in memory of Reggie White before the Packers game versus the Bears on January 2, 2005. Source: Image courtesy of P. Burruss
Green Bay Packers football jersey worn by Brett Favre during game against Chicago Bears, January 2, 2005.
(Museum object #2005.83.1)
Just a week after the passing of Reggie White, his former teammate and friend, Green Bay Packers quarterback Brett Favre wore this jersey to lead his team to a 31-14 rout of the Chicago Bears. Favre passed for 196 yards and two touchdowns in a little more than one quarter of play before leaving the game early, the Packers having already clinched the division title and a playoff berth the week before.
Favre's effort in the Bears game gave him 30 touchdowns in a season for the eighth time in his career, an NFL record, and more than 4,000 yards for the fourth time. "Well, I'm still kicking," Favre said after completing his 14th regular season as a professional. "It's hard to get 30 touchdowns. It's hard to get 4,000 yards. But more importantly, it's hard to start every game. It's hard to win every game. I've taken more pride in the fact that I've been able to start every game and be a winner in most of them."
Indeed, Favre built his career on durability and playing through pain. The Bears contest marked his 205th consecutive regular season game, upping his own record for NFL quarterbacks to 89 games over second place Ron Jaworski (1977-1984). After taking over at quarterback from the injured Don Majkowski to lead the Packers to a come-from-behind victory over the Cincinnati Bengals on September 20, 1992, Favre did not miss another game for the rest of his sixteen year career with the Packers
Because the Bears game did not mean anything for the Packers playoff chances, Packers coach Mike Sherman was most concerned about keeping his players healthy. "He said, 'Hey don't get hurt," said Favre after the game. "I was thinking to myself, 'After 200-something games, why does he have to say that to me now? I almost felt like he was jinxing me."
Sherman also wanted to make sure that the Packers did not let White's death weigh too heavily upon them. White had provided a strong example of leadership for Favre and the rest of the Packers during his tenure with the team from 1993 to 1998, helping lead them to two Super Bowl appearances including a league championship in 1997. Three days before the Bears game almost 50 current and former Packers attended White's funeral in Charlotte, North Carolina, and the Packers all wore a decal on their helmets with White's jersey number, 92.
"Mike said, 'Hey go out there and play, not because of the decal, but play it like Reggie would play the game,'" Favre recalled. "I feel like I do that every week." By the end of the 2007 season, his last in Green Bay, he had eclipsed many all-time NFL passing records including the most touchdown passes (442), most passing yards (61,655), most wins by a quarterback (160), and most interceptions (288).
Brett Favre finally announced his retirement from football on March 4, 2008, but by July had gotten "the itch" and declared he wished to return for the 2008 season, causing much distress to himself, the Packers organization, and his legions of fans. After reaching an impasse in negotiations, the Packers traded Favre to the New York Jets in August 2008.
[Sources: Green Bay Packers official website; The Capital Times, January 3, 2005.]
Learn More
Have Questions?
For more information or to purchase an image of one of the objects featured in Curators' Favorites, contact our staff by email below:
museumcollections@wisconsinhistory.org
Posted on September 08, 2005