Historical Essay
J. Robert Taylor - Image Gallery Essay
Milwaukee's First Photojournalist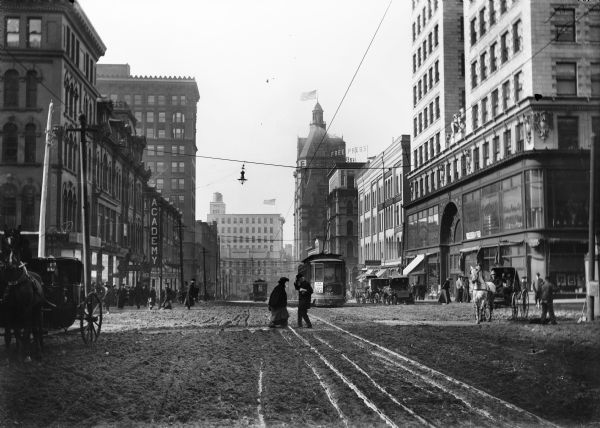 Muddy Street in Milwaukee, 1901
Milwaukee, Wisconsin. View original source document: WHI 24426
"It might be fun to make pictures." That was the initial thought of John Robert Taylor (1876-1959), the first photographer for the Milwaukee Journal, upon taking the job in 1909. Although he had no formal training in newspaper photography, Taylor had a successful 37-year career at the Journal. He documented events ranging from catastrophic fires to lazy summer days on the shores of Lake Michigan. Taylor's one-man photo department helped to shape modern photojournalism.
Enlarge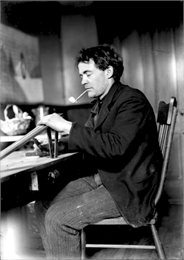 John Robert Taylor, 1907
Milwaukee, Wisconsin. View the original source document: WHI 6461
Shooting both news and advertising photographs, Taylor began his career with the Journal earning $15 a week and developing his photos in a windowless mop and broom closet. He eventually moved to a larger room but one without ventilation or hot water to mix developer. Taylor heated buckets of water on a stereotyper's steam table located a floor below his laboratory. Despite meager surroundings, though, Taylor had the good fortune to work some of the most cutting-edge camera equipment of his time. His budget for many years came from the paper's mechanical department, where large expenditures on equipment were not out of the ordinary. Although the newspaper became known as a pioneer with photographic equipment (such as pocket snapshot cameras), Taylor relied mainly on a 5-by-7 Graflex camera from which he made prints from glass plates.
Transportation Methods a Trademark
Initially, Taylor got around town to cover events by horse, streetcar, rail and his own two feet. He later purchased a used motorcycle. After 37,000 miles, Taylor gave up the motorcycle for a Model T outfitted with a darkroom and a body built to resemble his Graflex camera. Taylor darted around the Milwaukee area at notoriously high speeds — a trademark along with his blue-and-white polka dot Windsor tie and pipe. Although he took photographs for use in the newspaper, Taylor retained the rights to the photos and he was free to sell them to other newspapers, which netted him considerable profit. Most famously, Taylor profited from his photographs of the attempted assassination of President Theodore Roosevelt in Milwaukee in 1912. Taylor captured images of Teddy Roosevelt minutes before the shooting and of Roosevelt's would-be assassin, John Schrank, at the county jail. During his career, Taylor had the honor of photographing six other presidents, including Taft, Wilson, Harding, Coolidge, Hoover and Franklin Delano Roosevelt.
Rapidly Changing Milwaukee
However, Taylor is most remembered for the photographs that capture the spirit of a rapidly changing early 20th-century Milwaukee. In Taylor's images, the streets and waterfront form the heart of the city, and Taylor documented its changing beats as cars replaced horse-drawn carriages and as Milwaukeeans traded their parasols for bathing suits at the beach. Taylor had a fascination with the developing modes of transportation of the time including ships, trains, airplanes, blimps, automobiles and motorcycles. Among his collection are many photographs of motorcycle and automobile races that catch the speed and excitement of the fledgling sports.
It was Taylor's job to visually document the unusual — such as a loose bull on the city streets — as well as the disastrous accidents, fires, and floods of the day. But Taylor also skillfully captured the ordinary, everyday events of Milwaukee. The ever-changing weather was a favorite subject, as were the people of Milwaukee. Taylor never shied away from taking candid photographs of pedestrians caught in a rain storm or a family picnicking at a park. Taylor's legacy is the way in which he vividly described the people and places of Milwaukee. He not only set a precedent for photojournalism, but left a rich record of Milwaukee's past.
View the Gallery
View all J. Robert Taylor photographs
Browse the Images
---
Learn More
Read a Biographical Sketch on J. Robert Taylor
Read "The Cream City Beat: Photographs of Milwaukee by J. Robert Taylor" to see more about John Robert Taylor and see more images. Article published in the Volume 86, Spring 2003 Issue of the "Wisconsin Magazine of History."