Classroom Material
'Thinking Like A Historian' Poster (PDF)
Enlarge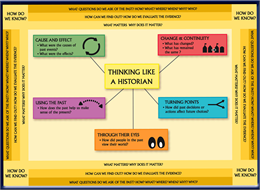 'Thinking Like a Historian' Poster
This poster will provide your students with a new way of looking at the past. It will guide your students to ask the same questions that historians do: What matters? Why does it matter? How do we know?
This downloadable poster highlights thoughtful questions to help students think like historians. Questions focus on cause and effect, change and continuity, using the past, turning points and through their eyes.
"Thinking Like A Historian" is the framework for the 4th grade history textbook, "Wisconsin: Our State, Our Story."