Historical Essay
Fish Fry Fridays - Image Gallery Essay
Jim Widmer's "Spirit of Rural Wisconsin," Part II
Jail House Restaurant — Interior, 1999
West Bend, Wisconsin. The Widmer fish fry crew inside the Jail House Restaurant in West Bend. View the original source document: WHI 80675
This is the second article in a series featuring the images of Jim Widmer. Widmer grew up in the Dodge County town of Theresa. His photographs capture everyday life in a small town and embody the spirit of rural Wisconsin.
Fish Fry Fridays, 1997-2010
Enlarge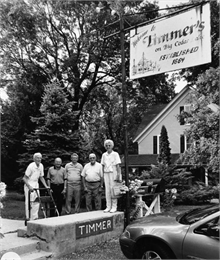 Timmer's — Exterior, 1998
Cedar Lake, Wisconsin. Widmer crew outside Timmer's on Big Cedar Lake in Washington County. View the original source document: WHI 80621
In Wisconsin, Friday fish fry dinners are a ubiquitous tradition. Aficionados are always looking for new venues. Why are Wisconsin fish fry events emblematic? Early German Catholic settlers in Wisconsin made use of the region's abundant supply of fish because they were prohibited from eating meat on Fridays. Over the decades, local cooks across the state experimented with making a simple menu uniquely their own.
Today a typical fish fry menu consists of beer-battered fried perch, bluegill, walleye or catfish, or cod brought in from the East Coast. The fish is served with tartar sauce, French fries or German-style potato pancakes, coleslaw, and rye bread.
Jim and Shirley Widmer once traveled 235 miles to go to a fish fry. Their journeys have led them to diners, bars, country clubs, veterans' organizations and churches all over Wisconsin. During the course of their 13-year adventure, the Widmers experienced more than 450 unique fish fry events in Wisconsin and compiled 16 albums of photographs.
About The Photographs
In 1997 Jim and Shirley Widmer began weekly road trips to restaurants featuring Wisconsin fish fry dinners. For 14 years they searched newspaper ads, phone books and the Internet to find new leads. Each Friday, the retired couple gathered a group of family, friends and neighbors to enjoy this Wisconsin ritual.
In August 1997 Widmer began taking two black-and-white photographs of each restaurant they visited. One was of the restaurant exterior featuring the attendees and an identifying sign in the background. The other image was an interior shot with everyone seated. If the servers agreed, they would appear in the photographs as well.
Jim Widmer does not appear in the series because he was the photographer. However, in one photograph, Widmer makes an appearance in the reflection of a mirror. In another, Andy Kraushaar, Visual Materials Curator at the Wisconsin Historical Society, photographed Jim in the act of photographing the exterior of one of the fish fry locations.
In Search of the Best Wisconsin Fish Fry
Over the years, the Widmers and their friends developed a refined palate for fish. They even invented a rating system to measure the quality of each restaurant they visited. The family members devised ballots numbered from one to five, with five being the best. Each member submitted a rating, and the group used the scores to generate an average. They discarded the system when they noticed that one member gave every establishment a perfect rating regardless of the quality. Ralph Widmer, Jim Widmer's brother and a weekly attendee, did not have the heart to rate any establishment lower than a five.
The Widmer Family — A Brief Biography
The Widmer family emigrated from Switzerland in 1906, and in 1922 Jim's father, John O. Widmer, made the down payment on his own cheese factory in the Dodge County town of Theresa. Though the area was already well known for its cheese making, the Widmer operation was unique. Most local cheese factories made only cheddar or Muenster, but Widmer's could switch between cheddar and brick cheese. After John retired, the family business was passed down to his three sons, John, Ralph and Jim.
About the Widmer Collection
The photographic collection of Jim Widmer and his wife Shirley embodies the spirit of rural Wisconsin. His photographs capture the lives of the people of Theresa, a small town whose population totaled only 611 in 1978.
The collection includes hundreds of carefully crafted photographs of local life, of Widmer's cheese factory, of Friday-night fish fry events and of family-owned barns in Theresa Township. Jim and Shirley Widmer performed all of the photographic processing themselves and assembled hundreds of printed images in bound volumes. The Widmers donated one complete set of these to the Theresa Public Library and a second to the Wisconsin Historical Society.
Widmer used a Twin Lens Automatic Rolleiflex, considered by professional photographers to be one of the finest cameras ever made. He used Kodak Super XX film at 100 speed, developed in a fine-grain developer, Kodak Microdol-X. At times he also used 35mm cameras and a variety of lenses ranging from 20mm to 300mm. Widmer developed the Kodak Tri-X, black-and-white film in Kodak D-76 and printed the 11-by-14 enlargements on Agfa Brovira papers. With the exception of one photograph, all the images used available light.
View the Gallery
View all Fish Fry gallery images
---
Learn More
Theresa Township Over Time - Image Gallery Essay
Explore Jim Widmer's photographs of Theresa, Wisconsin.
Barns in Theresa Township - Image Gallery Essay
Explore Jim Widmer's photographs of barns and their owners in Theresa Township.